REVOLUTIONIZING ERECTILE DYSFUNCTION TREATMENT
EXPERIENCE BETTER ERECTIONS & ENHANCED SEXUAL PERFORMANCE AT ANY AGE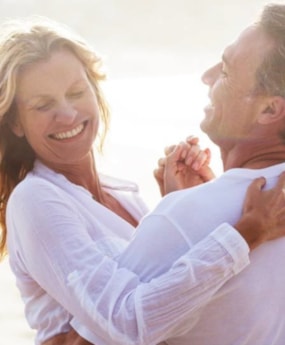 Performed exclusively by a small network of exceptionally qualified medical providers, when it comes to treating erectile dysfunction, GAINSWave® is THE top-of-the-line choice for extracorporeal shockwave therapy.
A 100% all-natural procedure, GAINSWave® has, through repeated clinical trials, definitively proven to improve overall health, performance, and sexual function in men. Not only that, but for men, it is also the only non-invasive treatment option that targets the primary cause of ED. GAINSWave® accomplishes this by:
Breaking Down Micro-Plaque In The Penis
Increasing Blood Flow
Releasing Growth Factors In The Tissue Forming New Blood Vessels
To find a GAINSWave® provider near you, click here to access the official GAINSWave® website's "Directory of Providers".
Alternatively, to locate the nearest GAINSWave® Silver Member Doctor, click here to access the official GAINSWave® website's "Directory of Silver Members".
---
SHOCK WAVE THERAPY (GAINSWAVE®)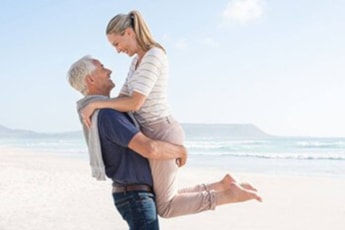 SHOCK WAVES MAY CHANGE THE FUTURE OF ED THERAPY
"It's hard to argue against an erectile dysfunction treatment that is potentially disease-modifying, is non-invasive, and seems to do no harm. The treatment, low-intensity shock wave therapy, has yet to earn the FDA's approval, but is widely used in other countries. Early results from ongoing U.S. trials are promising."
November 17th, 2017
- Lisette Hilton
The Urology Times®
To read the full article on shock wave therapy, click here to access the Urology Times® website.
---
FREQUENTLY ASKED QUESTIONS
WHAT IS GAINSWAVE®?
GAINSWave® is a proven protocol for men that improves sexual performance, keeps the penis healthy, and treat ED. GAINSWave® will benefit any man seeking to enhance his performance and sexual pleasure.
HOW DOES GAINSWAVE® WORK?
GAINSWave® works by using high-frequency acoustic waves to eliminate micro-plaque, open exiting blood vessels in the penis, and stimulate the growth of new blood vessels. The result is increased blood flow in the penis, resulting in harder, more sustainable, and stronger erections.
IS THIS NEW?
This therapy has been used in Europe for over 15 years with great success.
HOW MANY TREATMENTS ARE REQUIRED?
Depending on your goals, anywhere from six to 12 treatments are recommended. We also have a performance and preventative maintenance package to maintain results and optimize performance.
WHAT ARE THE BENEFITS?
Better Orgasms
Enhanced Erections
Improved Sexual Performance
Increased Sensation In The Penis
More Spontaneous Erections
WHAT ARE THE ADVANTAGES OF GAINSWAVE® OVER OTHER ED MEDICATIONS AND TREATMENTS?
GAINSWave® has no known side effects, and is completely non-invasive.
GAINSWave® is a simple in-office procedure, with each treatment taking only 20 to 30 minutes.
GAINSWave® is drug and surgery-free.
GAINSWave® is the only protocol that actually addresses the root cause of ED: poor blood flow.
GAINSWave® provides long-lasting results with no downtime.
IS THERE CLINICAL RESEARCH?
Numerous studies show this is the most effective ED treatment available. Visit GAINSWave®.com to see all of the clinical data.
IS GAINSWAVE® COVERED BY INSURANCE?
No, GAINSWave® is not covered by insurance. Please check with your certified GAINSWave® provider on pricing and treatment packages.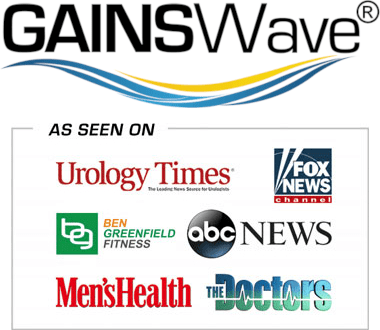 ---
CLINICAL RESEARCH
"Treatment is effective even in patients with severe erectile dysfunction who are on PDE5 inhibitor non-responders."
May 2016
The Journal Of Urology
"Multinational clinical trials demonstrated it is a safe, effective, and well-tolerated treatment for erectile dysfunction (ED), which includes men who do not respond to type 5 (PDE5) inhibitors (Viagra®)."
October 2015
The Urology Times®
"This treatment shows a possible cure in some patients."
October 2014
The Scandinavian Journal Of Urology
READ WHAT CUSTOMERS HAVE TO SAY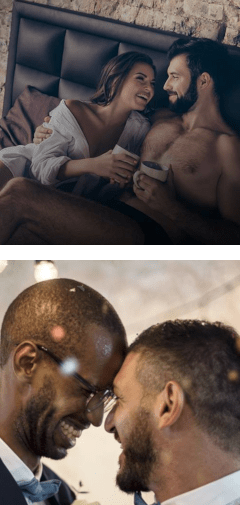 "I cannot begin to tell you how amazed I am with the results of GAINSWave®. I had the treatment, and I saw a difference making love to my wife that very night!"
- Thomas W. (Athlete), Los Angeles, CA
"I am a man in my 40's. I wouldn't say I have ED, but my wife and I both noticed that things were not quite "as good" as they used to be. It was taking longer to become aroused, and "getting ready" a second time almost impossible. I heard a radio commercial about GAINSWave®, and decided to give it a shot. Man, was I happy I did. My wife says our sex life is the best it has been since our honeymoon!"
- Eric T. (CEO), Portland, OR
"Around the time I hit 40, I started to notice that my performance in the bedroom was beginning to slip a bit, then got worse. I didn't want to lose confidence in my relationship (with my fiancé), so I began to use oral ED drugs, which helped. I continued on and off with medication for ten years, but who wants to have to take medication forever? When I learned about GAINSWave®, I was excited about resolving my ED and ending the need to constantly take pills."
- Jason S. (Fitness Trainer), Chicago, IL
GAINSWAVE® IN THE NEWS
REQUEST YOUR APPOINTMENT TODAY!
To request your appointment, please call (727) 500-2574 or contact us online today!
---
OUR LOCATION